Porcelain Veneers and Crowns
WE CAN FIX:
damage by injury or decay
discoloration
worn teeth
misalignment
Do you have a discolored tooth? A porcelain verneer can be used to cover the tooth.
Do you have a broken tooth? A porcelain crown may be the answer.
Dental porcelain looks and feels like your real teeth! Porcelain is used to repair, replace, or improve teeth that are:
Call me – 800-988-0772 or Contact me to get those discolored or broken teeth fixed.
Related Porcelain Veneer Articles
Smile Design Enhanced with Porcelain Veneers
In part two of the series on Smile Design, Dear Doctor takes an in-depth look at Porcelain Veneers, a superior yet minimally invasive technique for smile enhancement. We'll explain not only when they're appropriate, but also when they're not… Read Article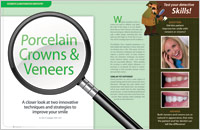 Porcelain Crowns & Veneers
A closer look at two innovative techniques and strategies to improve your smile. In many instances these two restorative techniques can produce nearly identical esthetic results, even though they are structurally different… Read Article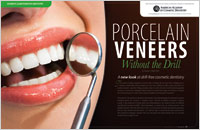 Porcelain Veneers – Without A Drill
No drilling — reality or ridiculous? A no-drill technique requires a second look, as new materials and concepts have created new esthetic possibilities. Reactions and opinions among dentists have ranged from absolute disbelief to moderate acceptance. This article gives hope and reasons for patients to get excited about this conservative drill-free cosmetic technique… Read Article