Cosmetic Dentistry and General Dental Services
Welcome to my website. Thanks for visiting. Please take some time to look through the site and get to know me and the services I have to help you to get and maintain the best smile possible.
I will do everything possible to make your dental care as comfortable as possible. This includes the use of topical anesthetic, careful shots, letting you and your mouth rest during treatment, watching television, using headphones, sitting in the massage chair, and a lot of TLC.
For those of you who have dental fears, gag easily, or would rather NOT know what is happening, I am one of a small percentage of dentists trained and certified by the State of Ohio to provide sedation. Your comfort is my absolute first concern! Click on the services link to see what I can do for you and then call for an appointment. I look forward to meeting you.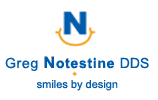 My logo is meant to catch your eye. It represents my practice. But it also represents more than that. It represents what I do and what I want for you.
The "N" represents me. When you become a client/patient in my practice, you are trusting me to provide the best care available. Everything that happens in my office, from your first phone call to the completion of your treatment, falls ultimately on my shoulders.The attitude of my wonderful staff, the training they receive, every encounter you have is my responsibility. I am proud of the practice I have built, the awesome long-term relationships I have built with many of my patients, and am proud to put my name out front for all to see.
The Smile under the "N" represents what I do and what I want for you. It is a simpIe, happy smile. I am a general dentist, which means I am trained in all aspects of dentistry. But my favorite part of dentistry is what I can do for you to make your smile better. Much of my continuing education, the many hours I spend learning and refining new techniques, is devoted to "smile" dentistry. I am trained to make your smile as beautiful as you want it to be! And I want you to know it!
The other reason for the Smile is how I want you to feel about my practice. Let's face it, no one likes going to the dentist! But my goal is to make your experience as good as it can be. I want you to feel that the care you receive in my office is the best you've ever had. So good, in fact, that, with a smile on your face, you will tell others about how you were cared for by my staff and me. There is no greater compliment I can receive than the opportunity tho help your friends and loved ones reach their dental goals.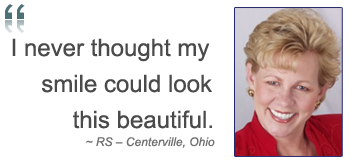 Are you satisfied with the way your teeth look? Would you like a bright new smile? Call me… I promise to listen to what you want and together we will get you the smile you deserve.

~Greg Notestine, DDS~